Netflix's Feel Good Review: A good Rom-com which you shouldn't miss.
Image Credits: IMDb
Cast: Mae Martin, Charlotte Ritchie, Lisa Kudrow, Adrian Lukis, Sophie Thompson
Creators: Mae Martin and Joe Hampson Director: Ally Pankiw
Feel good is a Semi autobiography of the famous stand-up comedian Mae Martin which was aired primarily in Channel 4. She has done a great job of a writer in her debut series. And yet again Netflix has bought and spread it throughout the world.
Image Credits: Decider
This series is about how a straight girl dates a Lesbian and the things they faced during their relationship. Mae (Mae Martin) a standup comedian who had a bad childhood and had been a drug addict. She's trying to break out from the anxiety. She finds the love of her life George/ Georgiana (Charlotte Ritchie ) while she was performing her but in a pub. Mae and George fall in love and Mae moves in with George. But George is in a confused state as she was a straight girl who dated guys throughout her life, She is scared to tell the world that she is attracted to a girl. The emotional mix up between the couple is the crux of the series. The struggle the duo had faced is showcased in a consumable manner. The series revolves over the emotional struggle between two opposite pole persons. The series is a slow burn but it will get you glued quickly. The character details and the backstory for them are beautifully constructed. You all may think what there to tell in lesbian life. But the pressure that society puts on them and the constant social bullying. The anxiety and depression they would have gone throughout their life in order to show what they are today. How lesbians are bullied by men to touch their private parts, the nicknames they will give to the people etc are shown very well
Mae Martin has done a great job in showing her entire life struggle in this 6 episode series. The addiction part of how she went to be an addict in order to escape from the bullying. The characterization is so convincing and the high pitched noises whenever she feels anxiety make us feel for her. How she struggles in keeping together the relationship with a straight girl. She quotes George as "like a dangerous Mary Poppins, and I'm, like, Bart Simpson" shows how inferior she feels about herself.
On the other side George, a perfect Disney princess character who is attracted to Mae was great. She is like a cat on the wall which side she needs to go. The sequences where she opens up was good. The sacrifices she does to keep the relationship is awesome. The characterisation of George was so good. How supportive she's with Mae and makes her feels safe.
Image Credits: NOW Magazine
Lisa Kudrow comes as Mae's mother has done a great job in helping the story to travel in a correct path. She looks like a cold-hearted person but at last, the feeling inside her towards Mae was depicted so poetically. There are also other characters which worth noticing but I will leave it to you guys so you will feel for them. Don't expect the great laugh out like the American sitcoms this is a British comedy there will some one-liners but it will have more meaning. There are more inner meaning dialogues which will make you think a lot.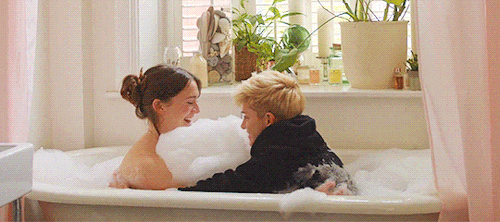 Credits: Tumblr
Each episode is just 30 min long so you will finish the entire series in a Single Sitting. The feel which you will have at the end is simply awesome. This one I will highly recommend when you have a hectic week t work. The director Ally Pankiw has done a great job in capturing emotions of all the characters.
The first season ended in a feel-good note with potential suspense for season 2 let's hope there would more seasons to entertain us.
Verdict: A good rom-com with a great set of emotions which won't fail to entertain you. It's a perfect thing for your weekend.
Content rating: 18+
Available on: Netflix.
Bingeopedia Rating: 3.5 / 5